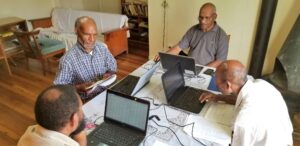 The 22,000 Gadsup speakers' first New Testament (NT) in 1981 is difficult to understand. Only a handful of people can read the orthography (alphabet) used, so a re-translation team is revising some NT books.
Papua New Guinea's (PNG) Bible Translation Association requested Tyndale Bible Translators' (TBT) assistance, to train and sponsor a few pastors as translation consultants. These Tyndale-trained pastors finished training in September 2020. Now, they're checking the revised 43% of the NT and 3% of the Old Testament.
How Can You Help?
Two pastors have no village electricity. TBT wants to speed Bible translation, by installing two solar panels and battery kits, available in PNG for $1250. Solar will provide light and also power their TBT laptops.
Gadsup speakers need our help, so pastors can check revised verses, guide audio recordings, give holistic ministry, print and distribute Bible portions. Will you please join this team?
You can PRAY or give finances. Help TBT bless Gadsup speakers with a clear translation of God's Word!
Gadsup New Testament Bible Translation Progress
22%
Ready for Recording & Printing
6%
Recorded & Print-ready