Kamano-Kafe Bible Translation Progress
The finish line is in sight!!!
To help with getting 1,500 copies of the entire Kamano-Kafe Bible printed click here for more information.
Below you can see the status of sponsorship for the books of the Bible.
If you give to print a Bible book or specific Bible verse, please type that book name or verse(s) in the 'Comments:' section on the giving page.
(Your donation will be updated on the chart after processing).
Kamano-Kafe Translation and Scripture-Use Team (PNG)
Since 1999, Rich and Joyce Mattocks have served the Kamano-Kafe people group in Papua New Guinea (PNG). God has greatly blessed the team with passionate Kamano-Kafe speaking coworkers. The Kamano-Kafe New Testament was dedicated December 24, 2014. In 2021, the team is preparing the complete Bible for publication and finishing audio-recording the final books (prophets) of the Old Testament.
The entire New Testament and most of the Old Testament is recorded and on solar-powered audio players and micro-SD cards. The team has produced multiple teaching booklets, hymn books, and has translated/recorded six videos: The "Jesus film",  "The Hope", "Acts", "Genesis", and "O Papa God" (HIV/AIDS movie drama), and "Ples i Bagarap" (sorcery movie).
With God's clear direction and help, in 2017, the team wrote and filmed an hour-long movie drama, "Ples i Bagarap" as a Christian response to the growing problem of sorcery in PNG. It was filmed in two languages, Kamano-Kafe and Tok Pisin (the trade language), and dubbed into English.
We are thankful for your partnership that helps team members serve with tools that speed up the work: solar panels and batteries, cell phones and computers.
Your tithes also help pay for team training, stipends, supplies, medical and dental treatment for them and their families, and scholarships for their children to attend school. Thank you for your part on the team to enable the Kamano-Kafe Christians in this ministry.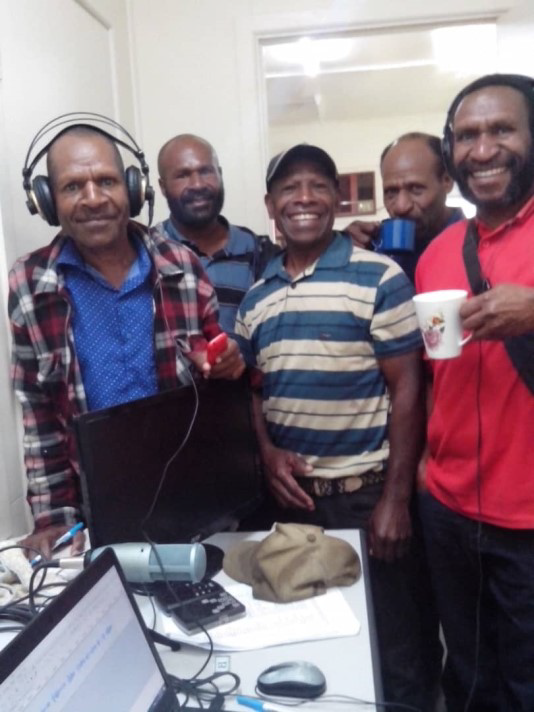 2/20/21: Kossack took this photo of the Kamano-Kafe team during tea break in the room where they are recording Old Testament books.